Centralized RANs take Layer 2 and higher baseband functionality out of the cell site and centralize that processing for resource pooling and other gains. The benefits of this architecture have been discussed and debated for several years, but Heavy Reading research shows that RAN centralization is gaining traction globally – especially in North America.
In November 2021, Heavy Reading conducted the third iteration of the "Operator Strategies for 5G Transport Market Leadership Survey" with project partners Ericsson, Fujitsu, Infinera and Nokia. The 2021 survey attracted 81 qualified network operator responses from around the world who shared their views on transport deployment issues and timelines, fronthaul networks and RAN centralization, routing and synchronization and 5G edge connectivity.
This blog is the third in a four-part series highlighting the key findings from the study. It focuses on operator plans for various 5G-related initiatives, with a particular emphasis on RAN centralization.
Plans for 5G Initiatives
Heavy Reading asked communications service providers (CSPs) to assess plans for various initiatives related to 5G, including multi-access edge computing (MEC), centralized RAN (C-RAN) and others. Specifically, the survey asked respondents to identify which of these initiatives they intend to implement by 2025.
Priorities vary significantly by geographic region. North American CSP expectations over the next five years for C-RAN are far more aggressive than Rest of World (RoW) expectations. While 71% of North American CSPs expect to roll out C-RAN by 2025, just 50% of RoW CSPs expect to do so. Expectations for cloud RAN – in which RAN functions are virtualized on commercial off-the-shelf (COTS) hardware – also differ by region. 64% of North American CSPs expect to deploy cloud RAN, while just 47% of RoW CSPs expect to do so.
The survey findings track well with what Heavy Reading is seeing currently – with C-RAN plans and deployment expectations in North America far more aggressive than expectations in Europe, the Middle East and Africa (EMEA). Still, the survey data indicate that, by 2025, C-RAN architectures will make further headway outside of North America (e.g., 50% of RoW respondents expect at least some deployments).
Which of the following is your organization currently implementing or plan to implement by 2025? (North America vs. Rest of World)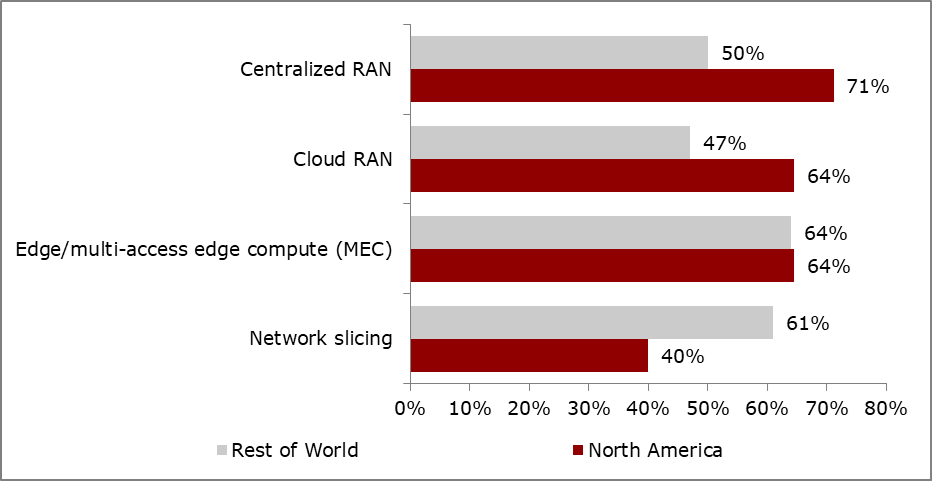 Top motivations to move to C-RAN
Increasing network resiliency is the top motivation to move to a C-RAN architecture, selected by 68% of CSP respondents globally. Second-tier motivations cited by CSPs are improving RAN performance, migration to virtualized RANs and simplifying cell sites.
As a motivation to centralize resources, the top ranking of network resiliency in this survey is a bit of a surprise. It is clear that network resiliency is crucial to differentiation in 5G, and CSP awareness of the role that centralization can play here may be increasing. Not only does centralization improve resiliency for the baseband elements, but CSPs also see resiliency benefits in centralizing the timing source and distributing the grandmaster location instead of relying on satellite at the cell sites.
Improving RAN performance and cell site simplification benefits are straightforward motivations. Processing traffic from multiple antenna sites within the same data center or central office aids inter-site coordination functions such as carrier aggregation and coordinated multi-point (CoMP). These functions are important for increasing both coverage and capacity in 5G – particularly when using mid-band and low-band spectrum.
The importance of C-RAN in virtualization is not surprising, as centralization has been promoted as a requirement for virtualization from the beginning. Over the past few years, a decoupling has occurred whereby the benefits of centralization have been recognized beyond virtualization. The survey results reflect this ongoing trend: virtualization remains an important driver, but C-RAN architectures are driven by more than virtualization alone.
What are the top motivations to move to centralized RAN (C-RAN)?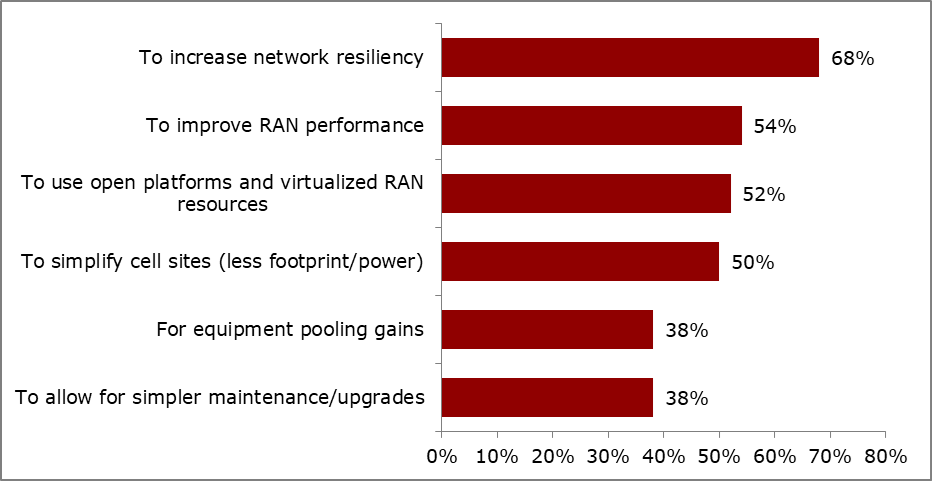 Timeliness for deploying C-RANs
Delving a bit further, the survey asked about timelines for deploying C-RANs for the subset of operators interested in this architecture (as identified earlier in the survey). In 2022, 60% of CSPs expect 20% or less of 5G RAN sites will have C-RAN, and 28% expect 21% of 40% C-RAN penetration. By 2025, nearly half of respondents (at 44%) anticipate 21% of 40% of 5G cell sites will have centralization, and just 22% will have less than 20%.
While early 5G deployments rely on existing facilities that are predominantly distributed, by 2025, operators will have acquired more fiber and implemented more virtualization. In 2022, a small minority of 12% expect greater than 40% of 5G sites will have centralization, but by 2025, this increases to more than one-third of the group (at 34%).
Keeping in mind that these C-RAN deployment expectations represent only a subset of total operators, the results are still a strong endorsement for an innovative architecture that has been discussed and debated for many years but is now coming to fruition.
What percentage of your organization's 5G RAN sites will implement a centralized RAN (C-RAN) by year-end 2022? By 2025?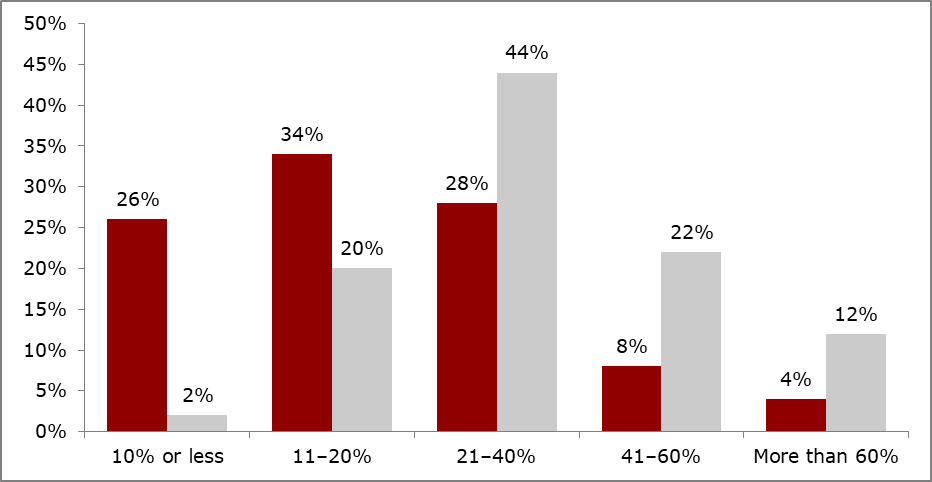 Discover all the findings from the Operator Strategies for 5G Transport Market Leadership Survey